Thailand has gone through some tumultuous years that have had some impact on its economy. To help investment and growth, this complete guide to doing business in Thailand updated for 2016 will guide investors and entrepreneurs in their activities, to launch and conduct business in Thailand.
The Thailand Board of Investment has released a complete guide to doing business in Thailand in 2016. Covering all the major business domains from registration to taxes, legal issues to new incentives, this long and very complete document will provide answers to all your regulatory and administrative questions to do business in Thailand.
Doing business in Thailand
The business guide to Thailand 2016 notably highlights the policies engaged by the new government (chapter 7), including the Special Economic Zones for which you can find more information with the incentives for business clusters in Thailand. For more information on taxes, check our guide to taxes in Thailand.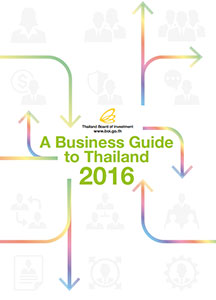 Doing business in Thailand 2016 – summary
Chapter 1: Procedures for establishing a company
Forming a company – page 6
Reporting Requirements – page 10
Types of business organizations – page 12
Chapter 2: Taxation in Thailand
Corporate Income Tax – page 23
Value Added Tax – page 28
Personal Income Tax – page 32
Other Taxes – page 35
Customs Duties – page 46
Chapter 3: Industrial licensing and regulations
The Factory Act – page 51
Factory License – page 51
Factory Operations – page 52
Factory Expansion – page 53
Other Provisions – page 53
Procedures and Timetable for Factory Permits/License – page 54
Environmental Concerns Regarding Sources of Water – page 56
Environmental and Health Impact Assessments – page 56
Chapter 4: Patents, copyrights, trademarks
Patents – page 59
Copyrights – page 61
Trademarks – page 65
Chapter 5: Legal issues for foreign investors
Foreign Business Act of 1999 and Activities Restricted to Thai Nationals – page 68
Work Permits – page 72
Visas and Immigration Law – page 76
International Banking Facilities – page 78
Exchange Control – page 80
Stock Exchange of Thailand – page 82
Land Ownership – page 83
Chapter 6: Labor issues
Labor Regulations – page 85
Chapter 7: New policy update
Special Economic Zones – page 92
Data Centers & Digital Economy Initiative – page 99
Chapter 8: Frequently asked questions – page 101
Annex: Important addresses – page 105
Costs of business in Thailand
To further help you assess the financial needs of your activities in Thailand, the Thailand Board of Investment North America has also published a guide to costs of doing business in Thailand. This very detailed data set will come handy to estimate total costs of new ventures: company registration, employees, taxes, rent, utilities, fuel, transports, etc.
Costs of doing business in Thailand 2016 – summary
Typical costs of starting and operating a business – page 4
Tax rates and double taxation agreements – page 5
Tax rates – page 5
Excise rate – page 7
Labor costs – page 10
IT positions – page 10
Translation costs – page 13
Overtime regulations – page 13
Severance payment entitlement – page 14
Minimum wage – page 14
Office occupancy costs in Asia Pacific – page 14
Rental factory industry – page 15
Utility costs – page 16
Water rates for regional areas – page 16
Water rates by user types – page 16
Electricity tariffs – page 17
Transportation costs including fuel costs and freight rates – page 23
Retail oil prices – page 23
Retail LPG prices – page 24
Shipping cargo rates from Bangkok – page 24
Costs of express postal services from Bangkok – page 24
Air cargo rates from Bangkok – page 26
Rail transportation costs – page 27
Communications costs – page 28
International telephone rates – page 28
Fixed line service – page 30
Y-Tel 1234 rates – page 31
International telephone rates – page 31
International private leased circuit – page 33
TOT satellite package – page 33
Monthly internet rates – page 33
Internet – IPStar – page 35
Industrial estates and facilities – page 37
Miscellaneous costs and information – page 70
Services apartments average achieved rents of Grade A by Area, Q1 2015 – page 70
Apartments achieved rents of Grade A by Area, Q1 2015 – page 70
International school fee structures – page 71
Thai graduates by major – page 72
Foreign students in Thai higher education institutions – page 75
Vehicle domestic sales – page 76
Seaports in Thailand – page 77
International airports in Thailand – page 81
Driving distance chart – page 83
Contact address – page 84
Document from December 2015 published by the Thailand Board of Investment North America