Ride-hailing applications are weighing a fierce battle in Indonesia to conquer its large and promising market. Competing against global and regional giants, the local application Go-Jek has found a way to seduce an important base of users and secure large funding to fuel its diversified growth in hyper-local services.
Indonesian ride-hailing app Go-Jek was the first mover in motorcycle ride-hailing in the country. As the market maker in 2011, its success has been lightning fast with 4 million downloads in 6 months and about 25 million downloads as of November 2016. Its market share represents about 33% of all Android devices and 70% of all iOS devices in Indonesia.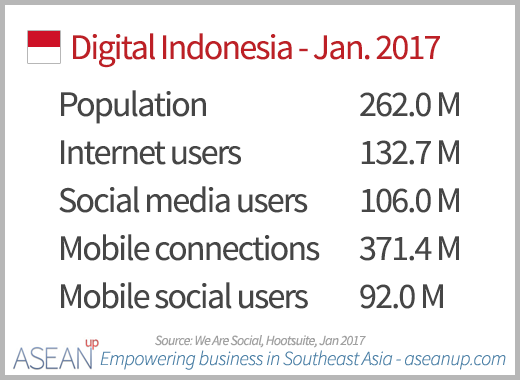 The market of 3.5 million daily commuters in Jakarta is nonetheless attracting new competitors Grab and Uber. But Go-Jek has significant advantages to remain ahead of them and develop further, beyond the motorcycle ride market.
A revolution of transport and technology in Indonesia
Jakarta's massive traffic congestion is a great example of how time is wasted everyday by Indonesian in their journey from home to work and back. Since its launch, Go-Jek has modified the Indonesian's perception of transports, and many car or bike owners now decide choose Go-Jek to save time. In essence, Go-Jek has been substituting its services to the interest for owning vehicles, losing time, paying parking, fuel and drivers.
Go-Jek's growth strategy
Having conquered a significant portion of the ride-hailing market, Go-Jek is moving beyond transport. It has now launched several other services to cater to its large users base while enhancing the use of its technological and financial eco-system. With this strategy, Go-Jek has notably become the leader in Indonesia for food delivery with 90% of the market, and in digital wallet (digital currency payment and management).
Here is the complete list of its services as of December 2016:
Go-Ride: Motorcycle ride-hailing (renamed from the initial Go-Jek app which now serves as an umbrella brand for all services)
Go-Car: Car-hailing service
Go-Food: Food delivery services
Go-Send: Express postal delivery services
Go-Mart: Diversified marketplace for third party merchants
Go-Box: Truck pick-up and delivery
Go-Massage: Local massage services
Go-Clean: Cleaning services
Go-Glam: Home beauty services
Go-Tix: Shows and events ticketing
Go-Pay: Digital wallet
Go-Med: Medical services and online pharmacy
Go-Auto: Auto care and services
Go-Jek's objective is to concentrate on its core market of Indonesia and control all the verticals in which it is involved. It aims at reaping the benefits from its user-base while profiting from its strong government support to expand through various industries before thinking of growing regionally.
Go-Jek's attractiveness for investors
Becoming the largest platform for digital services in Indonesia is an interesting positioning for Go-Jek. It allows the startup to attract large funds looking to invest in the booming Indonesian technology sector. With its national foothold and diversified portfolio, Go-Jek has obtained 550 million US $ in funding from investors that are seduced by this "one-app-fits-all" strategy.
Go-Jek's founder and CEO, Nadiem Makarim, is planning to invest this cash primarily in user acquisition and retention. Go-Jek will also spend tactically to make users involved in its app eco-system and familiar with its digital wallet to consume existing and upcoming products and services with cashless transactions.
Bloomberg video from November 2016