Online advertising is an easy and efficient means to reach new customers in Southeast Asia. However, the cost-per-click – CPC – varies greatly between the different ASEAN countries, and it should therefore be evaluated properly by people planning how to spend their marketing budget or monetizing their websites.
Reminder on Google AdWords, AdSense and CPCs
Being one of the largest market maker of online advertising in Southeast Asia, it is critical to know the prices of advertising of Google. The American internet giant provides convenient advertising tools that are widely used around the web, both for websites owners willing to earn money and marketers willing to advertise their products, notably for e-commerce in Southeast Asia.
Through AdSense, Google allows websites managers to insert advertising spaces on their websites. Through AdWords, Google's customers can advertise on the Google Search Engine and the Google Display Network (AdSense partners' websites and other Google websites such as YouTube).
Costs and revenues generated through the system created by Google are measured through the Cost Per Click – CPC, a standard on most web platforms. This metric conveniently allows anyone to budget their Pay Per Click marketing campaigns and websites managers to assess revenues from their online properties.
However, CPCs vary greatly between products, industries and countries. To help you evaluate the potential costs of your marketing campaigns, here is some information about CPC in the major digital markets of Southeast Asia.
Google AdWords CPC in ASEAN-6 countries
Since costs per click are defined by the buyers' bids on certain keywords and for certain geographic areas, CPCs vastly differ between products and services to advertise, industries, countries and their relative purchasing power.
A study by Wordstream compiled AdWords data (from 2015, updated in 2016) to compare CPCs in various countries with the corresponding CPC in the United States. This average CPC aggregates the estimated costs per click of search keywords from 20 different industries, obtained from the Google AdWords Keyword Planner, to compare it with the US average CPC. Here are the key findings.
US CPC Benchmark
Cost per click average across the 20 industries of 1 to 2 US $
Singapore CPC
The average CPC in Singapore was 58% inferior to the US, that is to say from 0.42 to 0.84 US $
Thailand CPC
The average CPC in Thailand was 58% inferior to the US, or from 0.42 to 0.84 US $
Indonesia CPC
The average CPC in Indonesia was 62% inferior to the US, or from 0.38 to 0.76 US $
Malaysia CPC
The average CPC in Malaysia was 75% inferior to the US, or from 0.25 to 0.50 US $
Philippines CPC
The average CPC in the Philippines was 75% inferior to the US, or from 0.25 to 0.50 US $
Vietnam CPC
The average CPC in Malaysia was 76% inferior to the US, or from 0.24 to 0.48 US $
Remember that the following comparison between CPCs in ASEAN countries are for an average of many keywords. Though these results give a broad idea of how online advertising costs vary between ASEAN countries and in comparison with the US, it is important to keep in mind that they are average at a given time and can greatly differ according to time, products, industries, etc.
Some the most expensive keywords in the US, such as "insurance", "loans", "mortgage", "attorney" or "credit" reach tens of US dollars, so do not be surprised if your target keyword's suggested bid in your Southeast Asian country  is way above the average listed here.
Refining your advertising budget
The evolution of the adverting market in each country, variations between industries, products or services, times of the year and specific market conditions are some of the factors that influence CPC. You will therefore need to assess the CPC costs of your specific marketing campaign to properly assess your pay per click budget.
To evaluate the price of your next advertising campaign on Google AdWords, make sure you use the Keyword Planner tool and define which market you are interested in for your target keywords.
Note that you can obtain data for your specific country, but also refine your search for provinces or cities. Targeting locations one by one might be the best way to obtain the most precise keywords ideas and corresponding suggested bids.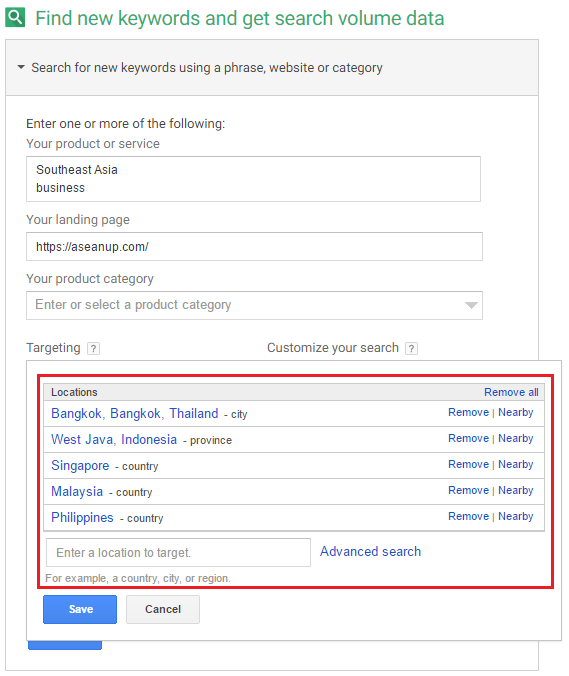 Of course you may also think about advertising on other platforms, specific social media or websites, "re-targeting" platforms, mobile platforms or other solutions. In any case make sure to know what platforms fit your products or services and be sure to have proper metrics to estimate the costs and potential returns.