The relations between the US and ASEAN are critical to each other in several areas, such as trade and economic cooperation, investment, tourism, immigration and students exchanges. In a recent document, the East-West center goes over the details of these relations through a series of well-conceived infographics.
Strengthening US-ASEAN relations
The other major powers have been steadily increasing their influence in ASEAN: Europe, Japan and China particularly, which now weighs heavily on both economic and political spheres. With the upcoming integration of the ASEAN Economic Community – AEC – in 2015, the US wants to strengthen its economic and political relations in Southeast Asia.
In order to help the movement and develop awareness for both Americans and ASEAN peoples, the East-West Center has grouped with the Institute of South-East Asia Studies – ISEAS – and the US-ASEAN Business Council to gather data and organize them in a booklet of very well-designed infographics published on the "Asia Matters for America" website.
ASEAN-US relations infographic highlights
Note: you can click on the images to enlarge them.
ASEAN GDP and GDP per capita comparisons
Before going into details on the actual US-ASEAN relations, the report provides some reminders of the ASEAN economic context through a series of inforgraphics on the ASEAN GDP that enable to easily grasp the situation.
More comparisons of ASEAN GDP with China, India, Japan the US and the EU can be found together with data from the different ASEAN countries in our ASEAN infographics on economy and population.
American direct investments in ASEAN and Asia
The US is a leading investor in Asia, with the aggregated ASEAN countries the leading receiver of American direct investments in Asia.
US goods and services exported to ASEAN
The US exports almost 100 USD Billion worth of goods and services to ASEAN, here are the actual kinds of goods and services exported.
ASEAN Americans
Many new ASEAN nationals are naturalized every year, led by people from the Philippines and Vietnam. There are currently 6 million Asian Americans who trace their ethnicity to ASEAN countries. Here are the details of ASEAN Americans in each US state.
American tourists in ASEAN
More than 3 million Americans go to visit ASEAN countries every year. Here are the actual figures of visits of each country, led by visits to Thailand, the Philippines and Vietnam.
Each individual infographic of the "Asia Matters for America" report and additional data can be found in the ASEAN data section of their website, to be embedded in your websites and blogs, or downloaded to use in your presentations.
ASEAN matters for America – summary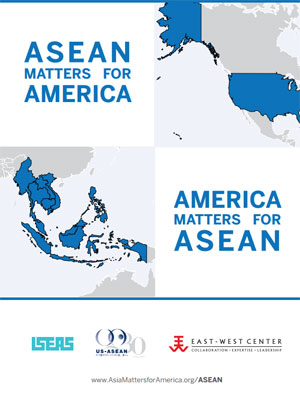 Acknowledgements – page 1
Highlights – page 2
Overview of ASEAN – page 4
Geostrategic importance of ASEAN – page 6
ASEAN economy – page 8
Introduction to ASEAN-US relations – page 10
US exports of goods and services to ASEAN – page 12
US jobs supported by exports to ASEAN – page 14
ASEAN direct investments in the US – page 16
Timeline of US-ASEAN relations – page 16
US direct investments in ASEAN and Asia – page 17
Needs for infrastructure investments in ASEAN – page 18
US tourism to ASEAN – page 20
Americans from ASEAN origin – page 22
ASEAN immigration in the US – page 24
ASEAN students in the US – page 26
Sister relationship between US and ASEAN cities – page 28
For more business-oriented perspectives towards the AEC, you can also check a resource from the US Chamber of Commerce presenting reviews and information relating to US business outlook in ASEAN for 2015.