Whether you are looking for employees to hire or to find a job that suits your profile, knowing the salaries usually granted for certain positions, in certain industries and with a certain level of experience can be very useful. For such purpose, here is a detailed report to assess your HR cost or salary expectations in Thailand.
As for this guide on Thailand, salary guides and resources are published for various ASEAN countries:
Evaluating HR costs in Thailand
Engaged globally into the job market, Adecco Thailand provides salaries information for Thailand, with a pdf document that presents very clear and complete salary reviews together with extra information on the labor force and job market trends.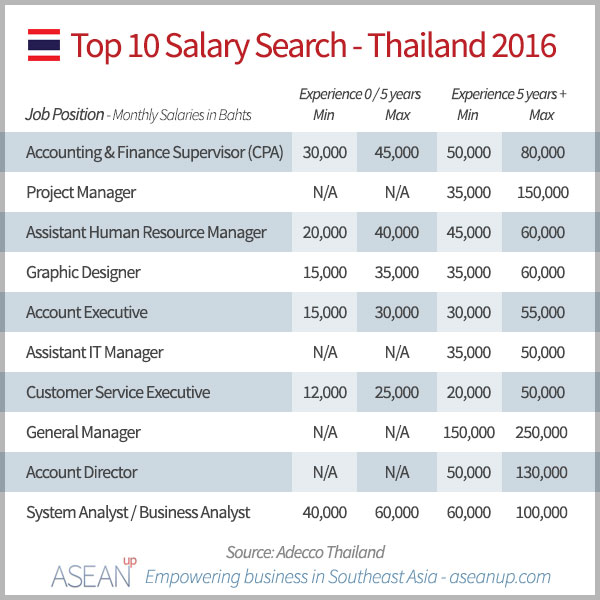 But Adecco Thailand goes further than this report usually published by recruiting agencies. They also provide a free online tool and mobile app to quickly filter and navigate through jobs titles and experience and assess the cost of Human Resources in details, in a very intuitive and useful experience.
Thailand salary tool
Built to fulfill the needs of HR managers and business directors to evaluate the costs associated with hiring the right talents, this tool compiles the data gathered by Adecco in their activities with their clients and candidates.
The basic functions of this online tool notably present a top 10 of jobs searched (summarized above) as well as graphic overviews of salaries in Thailand depending on job category, industry and level of experience. Note that the figures are based upon salaries, but they do not go into the details of other benefits and compensations which can often modify the costs of HR.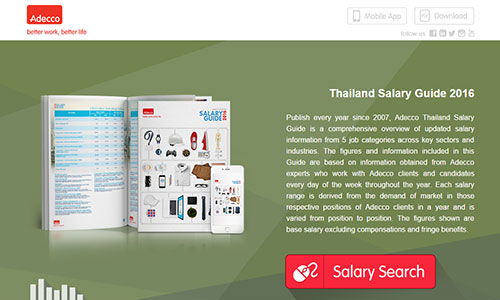 Going deeper to the more advanced section of salary research tool, HR managers and recruiters will be able to access very detailed surveys of jobs, to be finely filtered by a set of selected criteria for positions and then by numerous job category or industry detailed hereafter.
Search salaries by positions
Office
Engineering and technical
Information technology
Industrial
Japanese-speaking for Thai nationals
Japanese-speaking for Japanese nationals
Search salaries by job categories
Accounting, Admin / Secretarial, Customer Service, Design / Decorative / Architect, Finance, Government Affair, Human Resource, Insurance, Legal / Compliance, Marketing / PR, Medical & Science, Purchasing / Procurement / Expenditure / Buyer / Merchandiser, Sales, Supply Chain / Logistics, etc.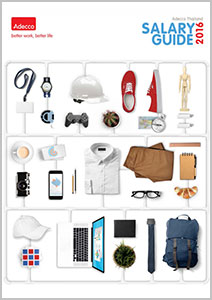 Thailand salary report
To be consulted offline, printed, or used to obtain a detailed overview of the salaries given in the Thai job market, Adecco also provides a PDF version of the data available in its Salary Guide tool.
It will enable recruiters as well as candidates to easily go through the same categories, industries, positions and experience in order to evaluate the costs of your next hire or how much your work can be worth in the Thai job market.
More information on salaries in Thailand and Bangkok
Other salary surveys have been created by companies involved in Human Resource in Thailand: recruitment agencies, temporary work and human resources companies. Among them the Robert Walters Thailand salary survey stands out as an up-to date report for jobs in Bangkok in 2016.