The Venture Capital industry is in its infancy in Southeast Asia. Yet, with a large and fast-growing Internet users base and quickly evolving business practices, the door is now open for a whole range of local startups to grow and conquer the region. This unique context now presents an interesting opportunity for Venture Capitalists.
Index of abbreviations
VC: Venture Capital
VCs: Venture Capitalists
LP: Limited Partnership
IPOs: Initial Public Offerings
Venture Capital Opportunity in Southeast Asia – summary
Why the US Venture Capital Industry crashed after the ".com bubble" burst – slide 5
Why the current era is different in the US – slide 14
The situation in Asia – slide 22
The situation of Southeast Asia – slide 30

A lot of seed stage activity – slide 32
Arrival of Rocket Internet – slide 33
More accelerators – slide 34
The result: a lot more startups – slide 35
11.8 Billion USD were spent to aquire Asian startups, including 2.6 Billion USD on Southeast Asia startups – slide 37
Acquisitions – slide 38
Initial Public Offerings – slide 39

Recent changes for VC, technology and startups – slide 40

99% reduction on the costs for technology – slide 41
Startups are raising more money and getting bigger faster – slide 42
So there is a big opportunity for Venture Capital in Southeast Asia – slide 45

Perspectives for the future – slide 46

Investments – slide 48
Valuations and exits – slide 51
Operating environment – slide 53
Startups – slide 55
List and activity of all VCs of Southeast Asia
The team of CxO has created a Google Spreadsheet to regroup all information on Venture Capital in Southeast Asia. They detail Venture Capital firms and their management teams, type of investments, investments already contracted, capital available, website addresses, etc.
Together in spreadsheet, you can also find tools to find the VCs that could fit your needs of funding as well as some statistical information on Venture Capital in Southeast Asia. Note that you have to be logged in to your Google Account to check this resource, and can get updates by registering in MAVA.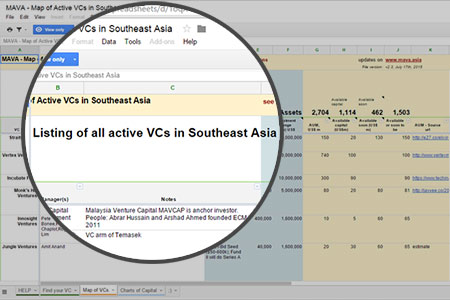 Presentation from Febraury 2015 by Alexander Jarvis