Blended in the country's tranquil tropical charm and original architectural styles, the Laotian culture is represented in the World Heritage Sites of the UNESCO through two sites of historic value, the remains around the Hindu temple of Vat Phou as well as the entire town of Luang Prabang, the old capital of Laos.
Regrouping several ethnic groups and languages, the culture of Laos is unified around the Lao Loum majority and the Buddhist religion. However, throughout centuries Laos has also gathered influences from neighboring countries Thailand, Cambodia, Myanmar, Vietnam and China, and France, the former colonial power.
Within more than 1000 historical and natural sites in the world, the United Nations Educational, Scientific and Cultural Organization – UNESCO – has recognized the importance of Laos through the classification of two sites for their unique cultural, historical and architectural value for mankind.
Here is the complete list of World Heritage Sites in Laos together with details and beautiful pictures to keep in mind for the use of travel and tourism professionals, and the viewing pleasure of all.
The 2 World Heritage Sites listed by the UNESCO in Laos
Town of Luang Prabang
© Photo: Benedikt Saxler
The ancient capital of the old Kingdom of Laos, Luang Prabang is a town that gathers traditional Lao architecture and French colonial buildings from the 19th and 20th century in a remarkably well-preserved blend of European and Asian cultures.
Location: Luang Prabang Province, Laos
Site type: cultural
Year of inscription: 1995
Vat Phou and Associated Ancient Settlements within the Champasak Cultural Landscape
© Photo: Alessandra
The Champasak Cultural Landscape was built between the 5th and 15th century under the rule of the Khmer Empire. Various structures are organized in a geometric pattern that embodies the Hindu vision and relationship between man and nature, including two cities, the Vat Phou temple complex and other temples, shrines and waterworks.
Location: Champasak Province, Laos
Site type: cultural
Size: 39,000 ha
Year of inscription: 2001
Other Lao sites submitted to the UNESCO tentative list
The Lao authorities have also submitted the following sites to be considered for nomination as UNESCO World Heritage Sites:
Megalithic Sites of Xieng Khouang Province (1992)
That Luang of Vientiane (1992)
Hin Nam No National Protected Area (2016)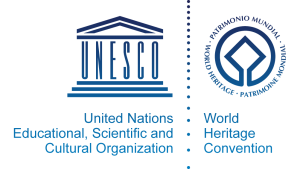 Here is the full list of the UNESCO World Heritage Sites in Laos. For more information about them, visit the Laos page on the website of the United Nations Educational, Scientific and Cultural Organization – UNESCO.
For more information on the other UNESCO sites in the ASEAN region, visit the World Heritage Sites in Southeast Asia.
Original header image: Benh Lieu Song for Wikimedia Commons
What do you think of these World Heritage Sites in Laos? Which do you prefer? Do you have some tips to make a better visit? Any other site in Laos you think should be added by UNESCO? Leave your comments below!