Google has just created an amazing resource to explore the temples of Angkor with a special "Street View" website of Google Maps. In this first-person 3D reconstructionfrom assembled pictures, anyone can visit the most famous temples of Siem Reap and view in great details their amazing architecture and art as if they were there.
3D views of temples of Angkor
For the tourism professionals as well as for anyone interested in history, culture and Cambodia, the works put together is just unbelievable. With the "Streetview" function of Google Maps, visitors are allowed to move freely through the click of their mouse, and turn around at 360°, up and down, inside some of the most famous temples of Siem Reap.
Selected views of Khmer arts and architecture
Google has selected certain views to integrate directly into Google Maps so that they can be explored more easily, when searching for Angkor. Thanks to this selection, anyone can have a quick access to some of the best parts of the Angkor temples complex, and quickly peak through the beauty of the Khmer civilization and its overtaking by nature.
With a guided experience to increase speed and focus on the most interesting places, these views cover the best of the best of the temples of Angkor: Bayon and its enigmatic faces, Ta Phrom and its invading nature, Angkor Wat's grandeur and fine arts.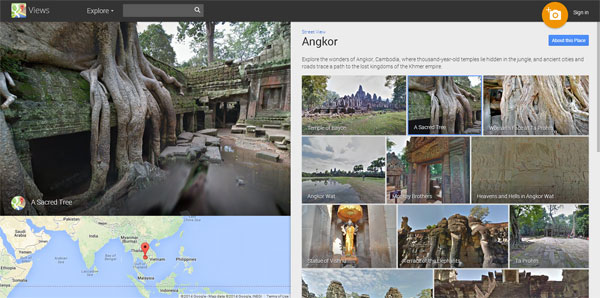 Complete 3D rendering of Angkor temples
For those who would want to go further and explore the temples by themselves, Google provides another set of "Behind the Scenes" views for some temples:
Banteai Srei
Beng Mealea
Angkor Wat
Angkor Thom
Ta Prohm
Of course, these temples are gigantic, so as it takes a lot of time to walk through them in real life, it will also take a lot of time to click through them. Loading a lot of quality pictures is time-consuming… so be prepared to spend hours to go inspect your favorite views and bas-reliefs in details.
As a little bonus, it seems that the Google employees had some special clearance to be able to access places that are normally forbidden to regular visitors. One more reason to go have a look through your computers' eyes of these stony walkways, enormous structures and forest-invaded ruins.