Empowering business in Southeast Asia further and accompanying the ASEAN Economic Community, ASEAN UP implements new tools to help business in the region. Introducing the ASEAN business community, ASEAN UP now helps you network, learn, share, discuss and promote yourself and your business.
ASEAN UP has just published a new series of functionalities to enhance connectivity for professionals of Southeast Asian countries. Through social networking tools, ASEAN UP users can now create free profiles to promote themselves and engage with others through public and private massaging and discussion forums.
Welcome to the ASEAN business community
With its forums and social networking tools for Southeast Asian professionals, ASEAN UP goes beyond functions currently available on conventional social networks to enhance the ASEAN Economic Community – AEC. Business persons of the ASEAN region can now engage directly with each other and benefit from the crowd sourcing of knowledge from the whole community on ASEAN UP.
Promote yourself and your business with extended profiles
Creating a free profile on ASEAN UP will allow you to provide detailed information about you and your professional activities. It will also enable you to display your interest and "looking for" section that will inform others who will know they correspond to your interests. Furthermore you will also be able to add links to your other social media profiles to promote yourself and your business.
As you will be able to publish your own information from your profiles, a public feed will collect all the contents and information you publish. Aside from your own profiles, you will also be able to connect with other members of community, making friends and following their information and contents. A complete system of messaging will allow you to write public and private message.
Learn and share in the forums about business in ASEAN and each of its member countries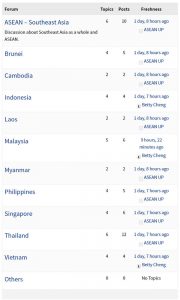 The new forum tools added to ASEAN UP will enhance group discussion, sharing and learning from the Southeast Asian crowd. Thanks to these new forums for business in Southeast Asia, members will be able to ask and answer question, and share their tips and expertise to help all those interested in doing business in Southeast Asian countries.
And of course existing functions are also integrated in this new profile system: creating a profile will enable you to create an entry for your business in the ASEAN businesss directory and submit your events in the Southeast Asian business events calendar.
Don't wait any longer, come enjoy all these free tools implemented especially for you.