Talent Ecosystem Conference 2016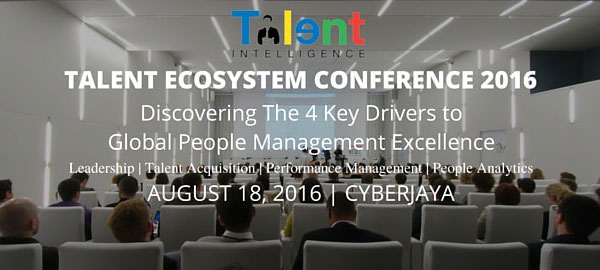 Talent Ecosystem Conference is designed and introduced to the HR community in support of greater understanding of Malaysian and global talent. Understanding of the synergy and dynamics of our talent is the genesis of effective communication between all the stakeholders in the ecosystem.
Event details
Returning for a fourth year, this event has become a highly anticipated HR conference to foster intimate forums that encourage big ideas, interactive discussions and lasting connections. Talent Intelligence Sdn Bhd is committed to increase its momentum every year, bringing the best speakers and discussing the most relevant topics in the industry.
Companies with a global presence are fraught to establish effective leadership teams as they struggle with cultural differences, conflicting internal discernments of talent management, difficulties in balancing global and local talent, and weak in the leadership pipeline.
Besides, talent analytics and big data are now must-have capabilities in HR. As the business world is transformed by the sheer volume, speed, and availability of data, and as the search for competitive advantage intensifies, data about people and performance becomes ever more critical.
Event themes
In TEC 2016, the speakers will review the 4 key factors that drive Global Talent Management practices to excellence.
Leadership
Talent Acquisition
Performance Management
People Analytics
Price
Conference Pass: RM 998
For more information on the conference, discounts and group rates, and registration, check the event website.