Recruitment Asia – Malaysia 2017
31 October 2017

-

1 November 2017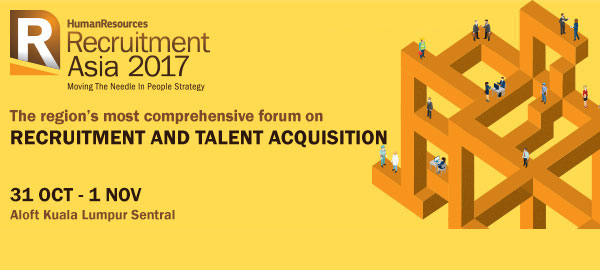 Recruitment Asia is a comprehensive forum on recruitment and talent acquisition, with a conference focused on boosting people strategies for strategic business outcomes.
Addressing the key challenges in recruiting processes and showcasing the best practices and expert insights in this area, this event is positioned to be your one-stop shop which allows you to learn and benchmark against your own practices.
Event details
Join more than 150 other business and HR leaders from across Asia to map out the route to attracting and securing the best talent.
Key themes
Strategic workforce planning
Recruitment climate in Asia
Onboarding and digital recruitment
New augmented workforce
Employee value proposition
Emerging sourcing channels
Selection excellence
Aligning recruitment to data science
Organisation of the future
Why attend?
Optimise talent acquisition strategies to attract and retain.
Learn from real-life case studies and best practices.
Know the future technology trends and innovations in recruitment.
Network with more than 200 HR leaders to exchange ideas.
Walk away with expert insights and practical practices in mind.
Who will attend?
Chief human resources officers
Chief talent officers
Recruitment directors/VPs/heads/managers/executives
Talent acquisition experts/directors/VPs/heads/managers/executives
Onboarding experts/directors/VPs/heads/managers/executives
Workforce planning and analytics experts/directors/VPs/heads/managers/executives
Employer branding experts/directors/VPs/heads/managers/executives
HR business partners
Price
HR Practitioners – 895 to 1195 USD
HR vendors – 2590 USD
For more information and registration, check the event website.