Myanmar Infrastructure Summit 2017
29 March 2017

-

31 March 2017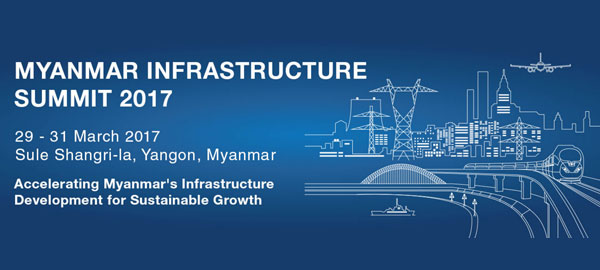 The 3rd Myanmar Infrastructure Summit 2017 is set to provide a platform for potential foreign investors, infrastructure developers, technology providers and infrastructure funders to be updated on the development plans and policies of investing in Myanmar's urban and rural infrastructure and, at the same time, build potential business and investment networks with the local policy makers and industry players.
Event details
Myanmar has extensive biodiversity and abundant natural resources. Approximately one-third of Myanmar's 62 million population lives in townships and cities. Chronic under-investment in urban infrastructure—including in housing, connectivity, electricity and water supply, healthcare, education and tourism infrastructure — has resulted in seriously deficient urban services throughout Myanmar.
Large resettlement areas in Yangon and Mandalay have urban services that are well below acceptable levels, and the situation is worse in the poor regions and other states of the country.
Under the Framework for Economic and Social Reforms, the Myanmar government has indicated that immediate priority will be given to improve infrastructure projects including land connectivity, transportation links with regional economies to boost economic integration, improvement of basics amenities such as affordable housing, universal electrification, safe drinking water, modernized sewage system, and the overall long term plan is to transform Myanmar into a world class green metropolis.
Price
Normal rate starts from 1,800 USD
For more information, group discounts and registration, check the event website.