Talk Travel Asia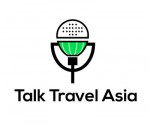 A bi-weekly podcast sharing travel tales and tips through entertaining conversations with captivating characters and diverse travel industry professionals.
Talk Travel Asia is a podcast founded by travel enthusiasts and professionals Scott Coates and Trevor Ranges. In their personal and professional travels throughout Asia they have developed an extensive network of interesting and insightful travel professionals and quirky characters who have aided them along the way.
Trevor and Scott have launched this podcast in order to share the great travel tales and tips they have accumulated in their respective work as a travel writer for publishers including National Geographic and a founder of a bespoke travel business, Smiling Albino.
After more than 25 years in the region, Scott and Trevor realized that they had been asked the same advice about where to go and what to do so many times, they thought they should simply make all such information available to the public.
In addition to their own individual experience and expertise, their network of informed and interesting friends and associates throughout the region is unparalleled; thus, they have launched this podcast to cultivate and share travel insights through intelligent conversations.