ETC Travel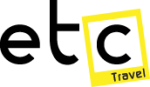 ETC Travel is a travel agency organizing individual, group and business travel in Thailand, Cambodia, Vietnam, Myanmar and Laos.
ETC Travel is a travel agency with almost 40 years of experience in the organization of holidays with a difference in South East Asia. Based in Bangkok, Thailand, ETC Travel has built a network of hotels, tour operators, attractions and entertainment in Thailand, as well as in Cambodia, Vietnam, Myanmar and Laos.
Throughout the years, ETC Travel has developed a strong experience in tailoring travels that get out of the ordinary, be they classic trips on the most favored touristic attractions or more oriented towards adventure in the South East Asian jungles, relaxation on the jeweled islands of Thailand, volunteer work trips with local communities, scuba-diving immersions, honeymoon or even team-building and company trips.
ETC Travel is also a responsible travel agency committed to the welfare of the local populations, the protection children, local cultures and the environment to ensure a sustainable touristic, ecological and social development as well as the most enjoyable holidays.